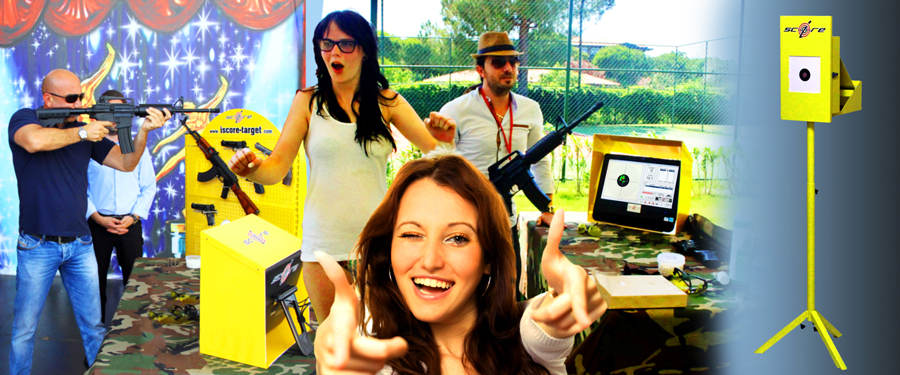 iScore Hotel & Fun Games that is being improved by TÜBİTAK scientific research council first time in our country carries the air pistol and rifle shooting activities, which are of the essential games of the prestigious hotels sports and animation activities, to the OLIMPIC GAMES standards.
iScore electronic target system that contains shooting aims of ISSF You will add unique innovations to animation activities of your hotel with Hotel Electronic Target Game. Without making large investments and even without separating large areas,it can be installed just in a few minutes you will be able to prepare new Sport Activities which is not even a precedent  in the most modern hotels.(International Shooting Sport Federation)  allows you to perform  fun and challenging SHOOTING COMPETITION between your hotel guests  with its high-tech touch-screen tablet computer which is scoring  the target destination location instantly and automatically.

Hotel & Fun Shooting Sport is turned into a enjoyable game in animation activities by iScore. Guests participating in the game make accurate shooting attempts using traditional weapons with desire to be successful in the Shooting Sport and this converts the  pleasant  competition  among the competitor guests to a happy memories.
iScore Hotel & Fun Shooting Games are the most modern Olympic Game System which  is developed  in order to provide pleasant moments for hotel guests with air guns that can be used for shooting games in the most ancient activities of history
iScore Hotel & Fun  shooting system which is designed with  whole electronic and computer controlled system contains;
Target screen

Target wall mounting hanger

Bullet Trap

Portable adjustable tripod stand

Visual Windows-based software package  developed specially for Hotels

Touch screen, built-in  computerized color LED screen portable computer

All easy installation and mounting equipment
If you want to have this demo package as advantageously just in the beginning of the next season , you can register our system as a special customer.


iScore Hotel & Fun, Electronic Biathlon Game

| | |
| --- | --- |
| |     |
iScore Hotel & Fun, Olympic Game

| | |
| --- | --- |
| |     |
iScore Hotel & Fun, Mechanic Biathlon Game

| | |
| --- | --- |
|    |     |
iScore Hotel & Fun, Apple Safe Archery Game

| | |
| --- | --- |
| | |
iScore Hotel & Fun, Rocket Safe Archery Game

| | |
| --- | --- |
| | |